Embroidered Badge
---
Embroidered Badge
£16.25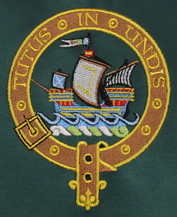 Embroidered in the UK on a special fabric (green like the Clan flag), this commissioned badge can be sewn or fixed by iron-on tape to the breast pocket or other suitable part of the jacket. Some people also like to wear it on a scarf or stole, or a tunic shirt.
(Tip: for the desired professional appearance, first very carefully snip the outside surplus material away from the surrounding strap-and-buckle before attaching the badge to your garment.)
If you are not resident in the United Kingdom, the PayPal system will automatically show the price in your national currency before you submit your payment. For a quick check, use this link:
http://www.xe.com/ucc
.