The personal Arms of our Chief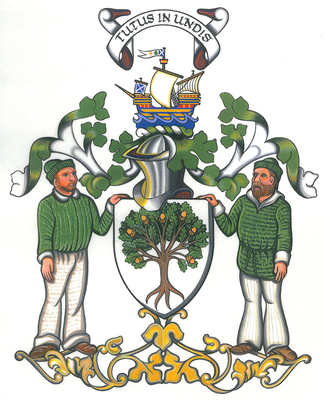 BLAZON: Shield - Argent, an oak tree vert eradicated Proper fructeted Or; Crest - A ship under sail Proper; Motto - Tutus in Undis; Supporters - Two sailors Proper, their caps and jackets vert, their lapels, cuffs and trousers Argent
Likewise, his ensigns prescribed by the Lord Lyon King of Arms are those of a baron of Scotland and a Clan Chief

* * *
Clan Wood is Asked to Appear at the
Royal Edinburgh Military Tattoo, 2017

This hugely popular annual Tattoo takes place at the castle over 25 days, and at least two of the fifty-three clans selected by the Standing Council of Scottish Chiefs will be making a special appearance each evening to mark 2017 as Scotland's Year of Heritage, History and Archaeology. There will be a distinctive naval theme to these events, which we are particularly well placed to enhance.
"A Splash of Tartan"
Our Chief and a party of his supporters, all wearing an item or items made in the clan tartan, have been called upon to appear on the castle's Esplanade in the evening of

Wednesday the 9th of August

during a brief reading of highlights in our clan's long history to an audience of some 9,000 people from all over the world.
Wood clanspeople have been booking seats to watch and/or take part in these happenings. Until the 31st of March, we were able to buy tickets for seats in an area specially set aside for us, but any of those seats that remained unsold at that date have now been released for sale to the general public.
Do come along and join us anyway by going to the official site
www.edintattoo.co.uk to book your seats. If you want to tell us where your seats are, then click on Contact Us in the Menu on this page to do so. We may then be able to include you in the assembling arrangements etc. once we know what those arrangements are.
To coincide with this event, the Chief would like there to be a Clan Wood Gathering over two or three days which could include a tour of Edinburgh during its famous annual International Festival, and an excursion to the Isle of May, with which perhaps our most famous Chief, Lord High Admiral Sir Andrew Wood, had cause to be particularly familiar.
If you wish to join us at the Clan Gathering, kindly tell us as soon as you can, using the Contact Us button in the Menu, so that we can start drawing up plans.
* * *
If your surname by Scottish descent is Wood or any of its direct variations;
if you are the partner or a near descendant of someone of the Name;
if you support our Aims listed below,
You are welcome to be a member of this Society.
Representing an ancient clan/family whose continuing line of Lothian and Fifer Chiefs dates back to the 12th century, and whose lairds have governed lands in the north and south of the country, the Society exists to promote the spirit of clan fellowship, Scottish traditions and friendly relations with other clan and family societies.
We are building a knowledge base about Wood history and culture, genealogy, individuals' achievements and lots more besides.
The Society provides a supportive link between members.
The wearing of the clan/family tartan is encouraged.
We aim to establish close ties with Clan Wood organisations throughout the world.

"Clan Societies have existed since the seventeenth century. They provide invaluable machinery for a clan-fund, repository for records and treasures, and virtually form the Civil Service of the clan."

(A. Mure Mackenzie, 1949)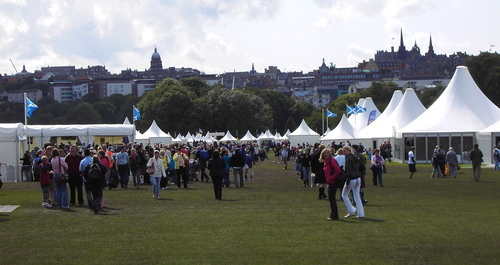 Just a small part of the Clan Village, Holyrood Park, Edinburgh
(There are more pictures in the Members' Area Bulletins page)

Hundreds of interested enquirers visited our clan tent
during the landmark 2009 international Gathering in Edinburgh.

We learnt much back then from all their helpful responses
and heard numerous fascinating family stories from many parts of the world.
Clan Wood participates in the annual events at Greenville, South Carolina and Radford, Virginia.
T

he Clan Wood Society aims to take part in Scotland's next international Gathering.
The Council is always keen to see the Clan represented at similar events throughout the world.
Invitations from organisers are welcome.
They and people wanting to take part should write to the Secretary by clicking on Contact Us.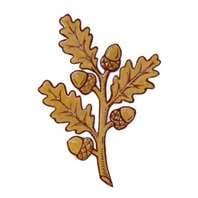 Most Scottish clans have a Plant Badge
This is the Plant Badge of the name Wood,
known heraldically as a

Sprig of Oak.



A small cutting from a tree is optionally placed behind the metal
Crest Badge that is worn on the cap, lapel, sash etc. - or just by itself.
Examples of the Crest Badge can be seen in the Clan Shop.
Quercus Robur


Call in to the website's Clan Shop, where you will find high quality items at affordable prices
.
(Click on The Clan Shop in the menu at the top of the page)
First and foremost, the shop provides a service that lets you easily obtain items made in the Wood tartan, as well as our iconic Crest Badge insignia that will identify the owner with Clan Wood and its families. The modest funds raised help to cover some of the costs borne by the Society on research projects and of proclaiming the Woods' contribution to Scottish history and culture, especially at public events and through this website.
The Scottish Register of Tartans reference 6630
Available by the metre, and as scarves, stoles, headwear, neckties and more. Visit the Clan Shop by clicking on it in the Menu
An image of the Wood Dress tartan (predominantly red) can be seen in the Bulletins page of the Members' Area

To celebrate the accession of our Chief, Timothy Wood of Largo, we gave him a Reception at Upper Largo, Fife, Scotland on Saturday the 21st May 2011, when he was presented with his distinctive silver bonnet badge that has the traditional three eagle feathers reserved for clan chiefs alone.
This was his first official engagement and was a
truly historic occasion for his Family and Clan.
The ceremony was followed by a buffet lunch and a short walk to Sir Andrew Wood's Tower that formed part of the baronial residence fortified by that illustrious Founder of the present line of chiefs, then on to the kirk where generations of the Chief's ancestors worshipped.
You can see some video shorts and photographs of the event through a youtube link, and you can ask for a DVD of the Inauguration, both in the Bulletins pages of the Members' Area.
Among the many messages of goodwill sent to the Chief by clansmen and women and friends of the Woods worldwide, and read out at his Inauguration, was the following:
"Do please convey to your Chief and your members my good wishes and congratulations." - The Earl of Crawford and Balcarres, Premier Earl of Scotland and Chief of Clan Lindsay.
Our Chief's ensigns (heraldic flags) are those of a baron of Scotland, and can be viewed in the Members' Area. He is a member by rank of the Standing Council of Scottish Chiefs.

A thrilling account of the personal life and history-changing career of a supremely accomplished and unique individual, Admiral Sir Andrew Wood of Largo, this ebook benefits from the very latest research into the man and the background that made him. It portrays in the round (i.e., 'warts and all' and with some strong dialogue) the personalities of many of his
famous and less well known contempories, while placing his adventures and violent clashes at sea in the context of what else was happening in the world at the time.
"Scotland's Admiral" can be purchased for £3.95 in the website shop. Just click on

The Clan Shop

in the menu on this page.
You can read in the pages of this website how the Woods were key to the foundation of Scotland's huge shipbuilding industry, firstly in Leith and then on Clydeside.
Pipes and Drums band adopts the Wood tartan

Index of Contents in the Members' Area:
If you would like to become a member of the Society, simply click on Join / Support in the Menu at the top of any page.

Timothy Michael Herbert Fawcett Wood, Representative of the Ancient Family of Wood of Largo and Chief of the Name
Chair: Bryan Wood of Alberta. Canada
Secretary: Nick Wood of Devon, England
Treasurer: Graham Wood of Moray, Scotland [also contact representative for the UK]
Michael Mure Wood, QC of Wiltshire, England
US contact representatives - Geary Woods of Florida and Fred Wood of N. Carolina, USA
Canada contact representative - Brian Wood of Quebec, Canada [also the website shop's distribution manager for North America]
Ronald Wood of Hertfordshire, England [also the website shop's distribution manager, other than for North America]
Australasia contact representative - David Wood of Victoria, Australia
Germany and the Benelux contact representative - The Count of Hasselt, Denis Wood of Assen, Netherlands
Council members' contact details can be found in the Members' Area.
In common with similar organisations, the Society is run entirely by unpaid volunteers on a not-for-profit basis.

Clan Wood Society's Family Genealogist is

Alex Wood

of Linlithgow, Scotland. Visit the Members' Area.
The Crest Badge shown as the Society's logo depicts 'A Ship under sail Proper' which is the Crest of the Arms belonging to our Chief.
The Chief's Armorial Bearings are shown on this page with his approval. They must not be copied or used for any purpose without his expressed authority.
[HELPFUL WARNINGS: No matter what certain plausible commercial websites may say, there is no such thing in heraldic law as a 'family coat of arms', so nobody should be tempted into buying one. What's more, a title like Lord, Lady or the Laird of Strath Here or Glen There cannot be obtained by purchasing a square foot or any other area of land in Scotland. If that were possible, the country would already be overrun with people titled simply because they own the land their house stands on; there'd be 10 'chiefs' to every 1 'Indian'! Moreover, where a genuine title is lawfully attached to a piece of land, only one individual at a time may use it.

So d

on't be fooled by unscrupulous charlatans into parting with

money

.]

On the other hand, the wearing by clansmen and clanswomen of a badge depicting the Crest (the topmost symbol) and Motto of their Chief's Arms IS desirable. An image of their Crest Badge forms the flag of many Clan Societies, and householders like to display it at home - as a wall plaque, for example.
Last reviewed and updated 4th April 2017